Christmas Cookies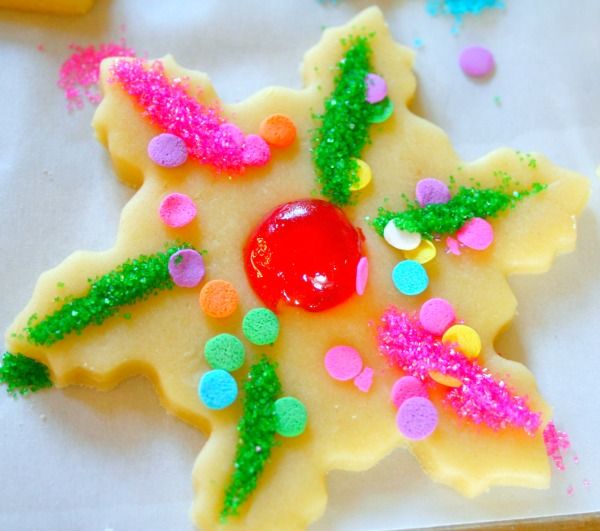 1 cup/2 sticks butter {room temperature}
1 cup/2sticks margarine {room temperature}
2-4 teaspoons almond extract
½ teaspoon salt
2 extra-large eggs
1 cup sugar
4 - 4½ cups all-purpose flour
small bowl of sugar & flour mixed for rolling dough on pastry mat
Lots of SPRINKLES, red hots and candied fruit.
Christmas cookie cutters
Line a baking sheet with parchment paper.
In the bowl of an electric mixer, whip butter and margarine together.
Add sugar and continue to mix on medium speed.
Add the eggs one at a time continuing to blend.
Add 2 - 4 teaspoons of almond extract depending on how much you'd like the cookies to taste like almond. I always use four teaspoons, but the original recipe only called for two.
Next, add the salt and whip the dough for a minute or so until well blended.
Add flour one cup at a time. If the dough is a good consistency after adding four cups, don't add the remaining ½ cup of flour.
The dough will pick up a little flour when you roll it out on the pastry mat.
Chill the dough for at least 2 hours.
Preheat oven to 375 degrees.
Grab a handfull of dough.
Roll it out on a pastry mat using a mix of flour and sugar and a rolling pin.
Cut the dough using Christmas cookie cutters and place cookies on baking sheet.
Decorate cookies with sprinkles, red hots and candied fruit.
Bake at 375 degrees for 10 - 12 minutes.
Red hots should pop open and bubble. So yummy!