Pecan Tassies ~ Gluten Free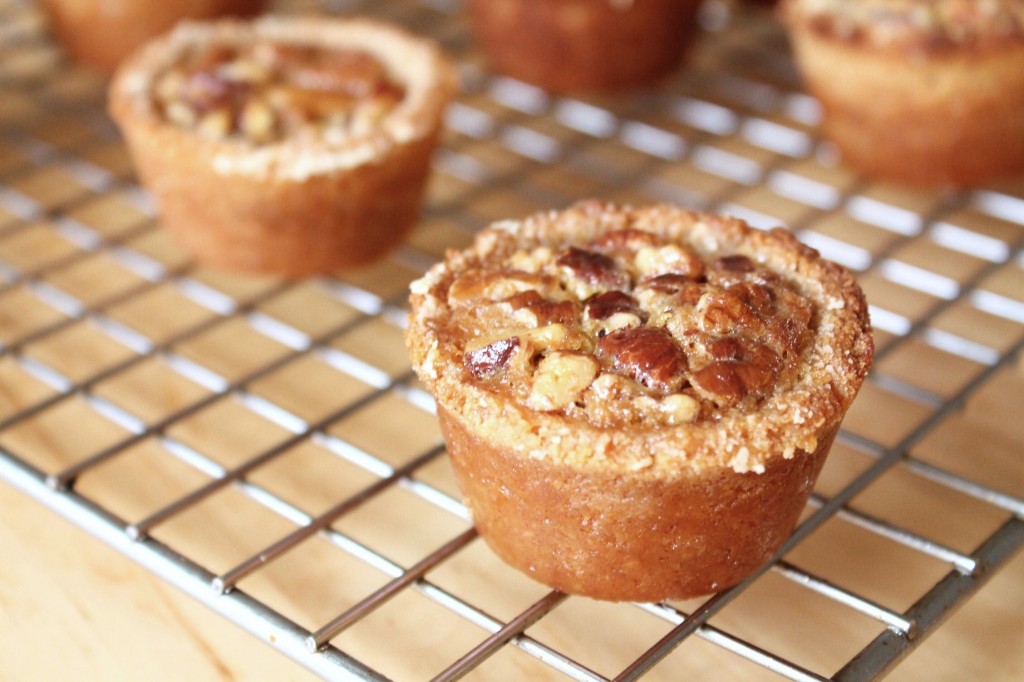 4 tablespoons butter, melted
2 tablespoons honey/maple syrup
1 egg white (reserve yolk for filling)
1½ cups almond flour or meal, firmly packed
1 teaspoon cinnamon
½ teaspoon kosher salt
¾ cup chopped pecans
1 egg
1 egg yolk
¾ cup honey or maple syrup
2 tablespoons butter, melted
1 teaspoon vanilla extract
Preheat oven to 325.
Combine crust ingredients and drop by the tablespoon-full into greased mini muffin tins. (I find that a cookie scooper works perfectly for this)
Gently push dough up the sides or if you have one, use a lightly floured mini tart shaper. (Honestly, they come out just fine if you don't have the tool)
Fill each cup with pecans, dispersing evenly between all 24 of them. (filling about ¾ full)
Prepare filling: whisk together ingredients until fully combined and smooth. Pour into mini muffin tins carefully.
Bake at 325 for 18-22 minutes or until golden brown.
Allow them to cool down about 5 minutes and gently remove them from pan onto a cooling rack.
*Yields 24 pecan tassies. Keeps in an airtight container for 3 days at room temperature or 1 week in the fridge. They also freeze well, up to 1 month.
Recipe by
LoveFeast Table
at http://lovefeasttable.com/blog/pecan-tassies-gluten-free/