We are so excited to have Shari from Tickled Red  kick off our second annual, Holiday Cookie Exchange.  One stop at Shari's table, we knew we would be lifelong friends.  Her zeal for life, her creative eye and the amazing goodies she whips up in her kitchen, well, trust us, stop by once and you'll be coming back for more.  Oh, and thanks for stopping by here today.  We are thrilled we have so many fun guests whipping up their favorite cookie recipes to kick off the holiday season. Happy Baking! ~Chris Ann & Kristin
P.S. Don't forget to stop by HERE to link up your favorite recipes!
*********
Hi I'm Shari from Tickled Red. I'm honored and thrilled to have been asked by Chris Ann and Kristin to join them at their table for this years Cookie Exchange.
I just love these ladies. They have one of the most beautiful enduring friendships that I have seen in sometime. Their friendship has enough space and love for us all, as Chris Ann and Kristin always make you feel right at home. Their table is one of my retreats during the week where I know that I will find a welcoming place to relax. Not to mention something fun that never fails to make me smile.
So pull up a chair, sit back and relax…
Growing up we always went to Connecticut during the Christmas holiday to visit my mom's family. They of course being the Italian side of my family tree. Thick white snow covered the ground, which made "Dreaming of a White Christmas" all the more magical to a young girl from the coastal south. The Christmas tree seemed to tower as it glowed with lights and sparkled with tinsel. As I lay there staring up at the ornaments through the bottom of the tree I could hear my mom, grandmother and aunts in the kitchen. The aroma of homemade marinara sauce wafting through the house while Bing Crosby surrounded us with cheerful melodies.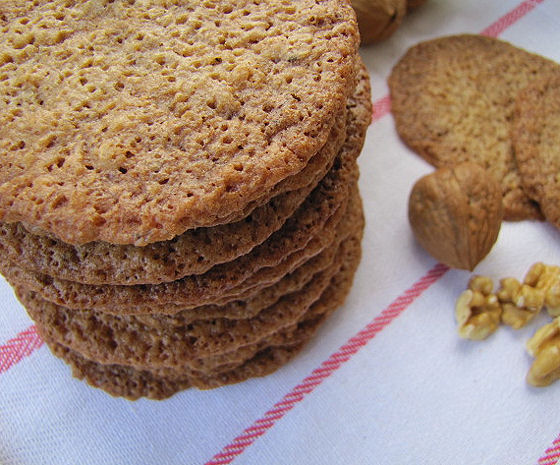 When dinner was ready we would gather around the dining room table, covered with our favorite dishes for an Italian Christmas. Sauteed or fried fish, manicotti, ziti, crusty breads and fresh vegetables. But this hearty feast was nothing compared to what was waiting for us on my grandmothers sideboard. As my cousins and I sat eating, we would catch glimpses of delicate sweets between shoulders and plates of food being passed. Candied rainbow ribbons, jelly filled sugar cookies, sweet ricotta filled cannoli and most especially wafer thin pizelles. Cleaning our plates was never a hardship with all of the treats that were waiting for us.
I can still feel these memories warming me, holding me close during the holidays as I honor some of these same traditions with my boys. Each year I try to recreate my grandmothers laden sideboard, making sure to have all of the sweets that she had as well as some new flavors to try. This year we are adding a cookie that is similar to my beloved pizelles. Thin crisp wafers of brown sugar and walnuts that almost melt in your mouth.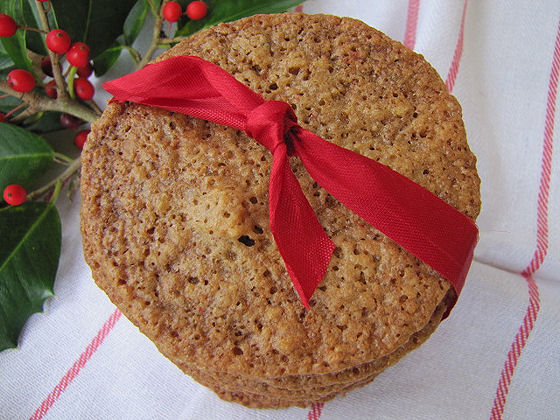 Walnut Wafers–Makes Approx. 2 dozen
1 1/2 cups brown sugar
1 egg
2 tablespoons butter
4 tablespoons all purpose flour
2 tablespoons water
1 1/2 cups walnuts, finely chopped
Preheat oven to 375 degrees.
In a mixing bowl on low speed, combine until smooth the brown sugar, egg, butter, flour and water. Once smooth add the walnuts. On a prepared cookie sheet, space each cookie about 2 inches apart. Use approx. 1 tablespoon of dough for each cookie, no more since they will spread. Bake for approx. 10 minutes and set on a wire rack to cool. *Silpat works best for these cookies*
These walnut wafers are easier to make than pizelles, seeing as how you don't need a special press. I do have a couple of helpful tips since these are very delicate cookies.
Try to use a Silpat pan liner or similar cookie pan liner.
Lift the entier liner from the cookie pan after baking and place on a wire rack to cool.
Once cooled, gently peel the cookies from the liner.
If walnuts are not your cup of tea, try pecans or almonds instead.
Thank you for letting me share a little bit of my holiday memories and my love for sweets with you all here at Chris Ann and Kristin's table.
I hope that y'all get a chance to give these delicious walnut wafers a try, who knows maybe they will end up becoming a new holiday tradition for you and your family as well.
Love & Hugs,
Shari-Tickled Red
*********
Thank you to Shari from Tickled Red for sharing your Walnut Wafers recipe at our table! ~Chris Ann & Kristin
Simply a coastal southern girl with a tendency to always look on the bright side. The wife of a competitive surfer from CA and the mother of two fantastic silly boys, I love to share my traditional southern cuisine, which highlight the flavors of the coast. As well as invite everyone along to share in our adventures of EAT~LAUGH~SURF, which is our lifestyle. Tickled Red is where we nourish our souls, showcase all of the little things that make us smile, say thank you and breathe just a little easier.